Download M.I. Abaga's 'Illegal Music 3' Mixtape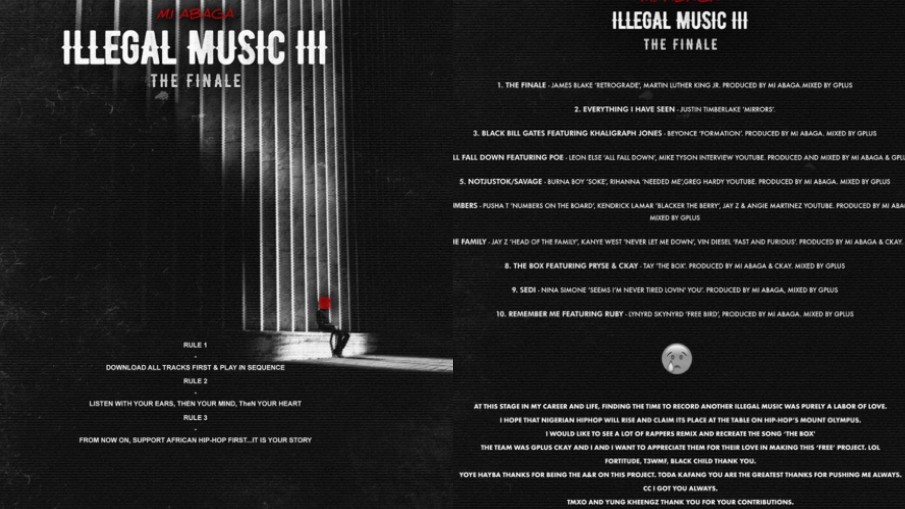 Equal parts irreverent and inspiring.
Seven years after he changed the Nigerian hip hop game with Illegal Music, respected rapper M.I. Abaga raises the bar several notches higher and makes up for (most of the letdowns) of 2012's Illegal Music 2 with Illegal Music 3 (The Finale), the last installment of the three-mixtape series.
A ten-track set stocked with strong language and the (sometimes absurd) wordplay that brought M.I. to relevance, the mixtape samples music from Beyoncé, Kendrick Lamar, Burna Boy, Nina Simone, Kanye West and more as well as spoken material from a variety of sources including Martin Luther King, Jr. and Mike Tyson.
Illegal Music 3 is deliberately lean, with most tracks entirely self-produced and only five artistes lending a hand—a far cry from the counterproductive 'all comers' nature of Illegal Music 2 (about twenty guest appearances). The most outstanding of those strategic features is KhaliGraph Jones' song-stealing verse on Black Bill Gates, easily one of the mixtape's standout cuts.
After one listen, we're tempted to call Illegal Music 3 the musical equivalent of a jolt of electricity—something to get the heart of Nigerian rap beating rhythmically again. But this is not a review, or is it?
Listen and download below.
Note: Explicit lyrics