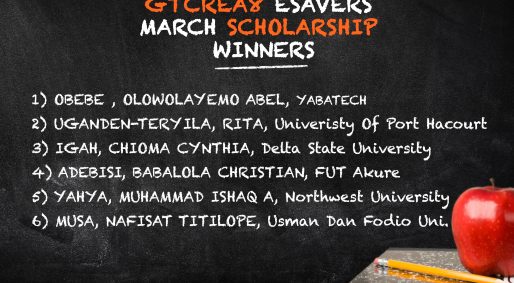 Winners of The March Edition of the GTCrea8 Scholarship Have Emerged
Details
GTCrea8 aims at bettering the lives of as many Nigerian students as possible, the need to do this gave rise to the awarding of scholarships.
Every month GTBank gives out 6 scholarships worth 150,000 Naira to students enrolled in tertiary institutions around Nigeria.
The recipients of the March scholarships have been announced. They are:
OBEBE OLOWOLAYEMO ABEL – YABATECH
UGANDEN-TERYILA RITA – UNIVERSITY OF PORT HARCOURT
IGAH CHIOMA CYNTHIA – DELTA STATE UNIVERSITY
ADEBISI BABALOLA CHRISTIAN -FEDERAL UNIVERSITY OF TECHNOLOGY, AKURE
YAHYA MUHAMMAD ISHAQ A – NORTHWEST UNIVERSITY
MUSA NAFISAT TITILOPE – USMANU DAN FODIO UNIVERSITY
This promotion is open to all Nigeria students currently enrolled in tertiary institutions within the country.
For the months of January and February, check out the winners of the scholarship here
You still stand a chance of qualifying for the May edition of the ₦150,000 scholarship.
Terms
1. You must have a GTCrea8 eSavers account. If you don't, open one right now here.
2.Maintain an average balance of ₦5,000 in your GTCrea8 e-Savers account each month. Or download the GTBank Mobile Banking app for iOS, Android or Windows Phone. Or use Internet Banking, 737, Mobile Banking or a POS for at least three transactions every month.