5 Nigerian Songs You Must Download Today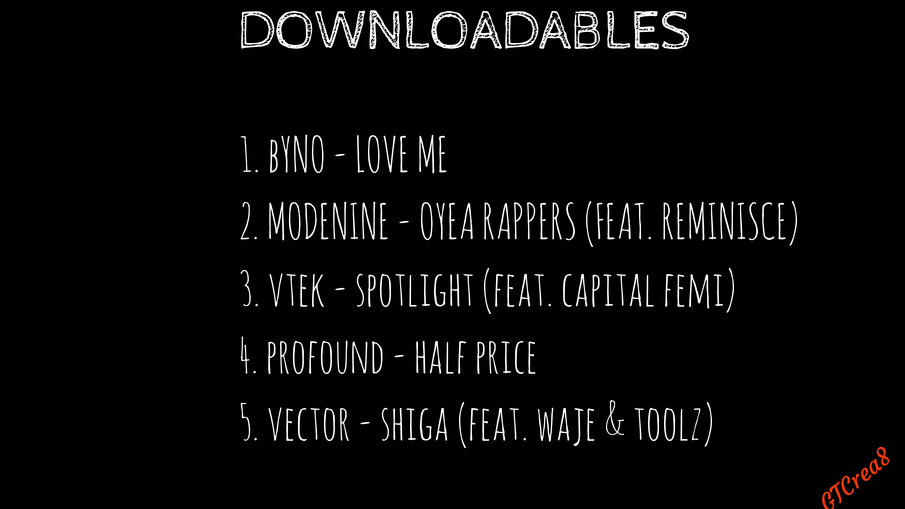 Four new tracks and one throwback jam from last year make up our list of hot downloads this week.
1. Byno — Love Me
R&B up and comer Byno makes the instrumental of US rapper Kid Ink's Show Me his own, lilting vocals flowing effortlessly.
2. Modenine — Oyea Rappers (Feat. Reminisce)
Sampling the opening line of Reminisce's 2011 megahit Kako Bii Chicken for the simplest of hooks, this track off Modenine's monster 40-track album—Above Ground Level—features the veteran lyricist's signature boasts and a solid Yoruba verse from Reminisce himself.
3. VTEK — Spotlight (Feat. Capital FEMI)
Producer/singer VTEK's single from 2013 got a special effects-laden music video this week, reminding us of just how special the song is.
4. Profound — Half Price [EXPLICIT]
It's not very often that you come across an honest hardcore rap track by a Nigerian, and that makes newcomer Profound's Half Price pure gold, explicit lyrical gold.
5. Vector — Shiga (Feat. Waje & Toolz)
On Shiga, from his forthcoming #A7 mixtape, rapper Vector crosses smoothly into party jam territory no small thanks to an infectious beat engineered by e-Kelly. Singer Waje and ubiquitous radio personality Toolz also lend their voices to this brilliant song.