Kanye Faked A Kanye Last Night (Turns Out He Wasn't Kidding)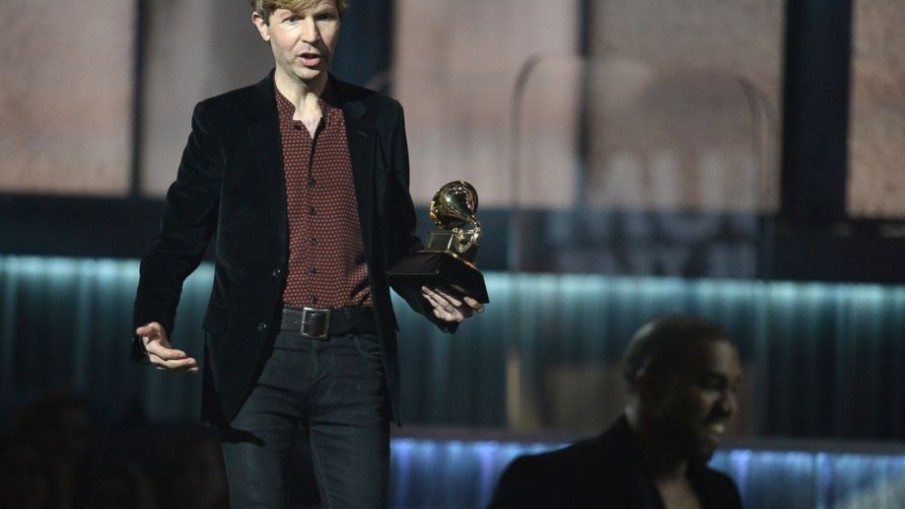 In the biggest upset of the 2015 Grammy Awards, a certain musician called Beck beat pop queen Beyoncé to the night's most-coveted prize, the Album of the Year. In what first appeared to be a repeat of his shocking moment of craziness at the 2009 VMAs in which he interrupted Taylor Swift mid-acceptance speech to declare that Beyoncé (it's always her) was more deserving of that year's Best Female Video award, Kanye walked onto the Grammys stage.
His pal Jay Z's highly expressive face mirrored our collective "Oh, no! Not again!" reaction.  
And we all laughed in relief when it sank in that it was a good-natured joke. And then it wasn't.
In an interview with E! after the show, Kanye expressed his displeasure with the nature of the Grammy Awards and made it clear that Beck should have given his award to the supposedly more-deserving Beyoncé:
…the Grammys, if they want real artists to keep coming back, they need to stop playing with us. We aren't going to play with them no more. 'Flawless.' Beyoncé's video. And Beck needs to respect artistry, he should have given his award to Beyoncé. At this point, we tired of it. What happens is, when you keep on diminishing art, and not respecting the craft, and smacking people in the face after they deliver monumental feats of music, you're disrespectful to inspiration.
Speaking further, he clarified that his stage-bombing wasn't a joke:
And by the way, I got my wife, my daughter, and I got my clothing line, so I'm not going to do nothing that would put my daughter at risk, but I am here to fight for creativity. That's why I didn't say anything tonight, but you all knew what it meant when 'Ye stepped on that stage.
*sigh* Let it go, Kanye. Let. It. Go.