#MusicMondays: The Top 14 Alternative Nigerian Songs Of 2014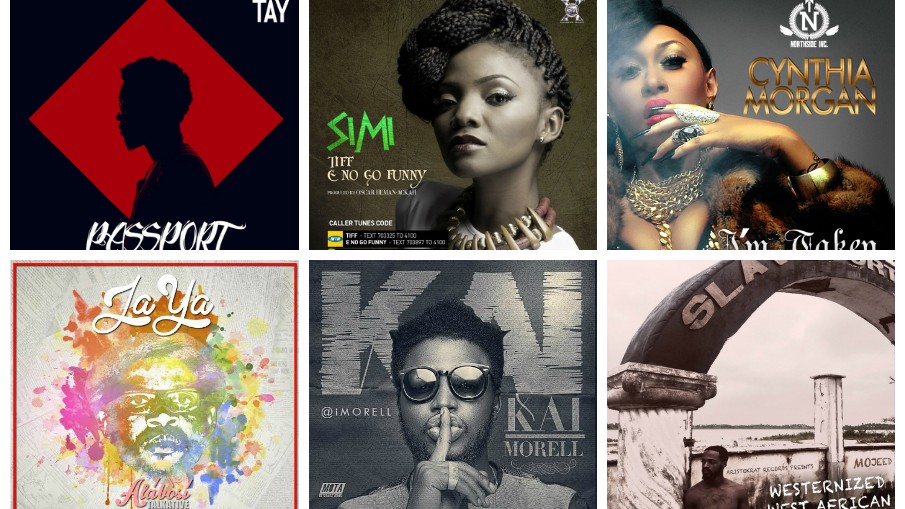 Alternative. Nonconformist. Unusual. Uncommon. This list is not about mainstream hits, 'club bangers' or going commercial. Instead, we have selected the most outstanding music created by Nigerian artistes—whether established or up and coming—this year; songs that don't blend in for the sake of mass appeal. You'll be surprised, that's for sure.
1. Simi — Tiff
One of Nigeria's most talented female vocalists in years, Simi first attracted our attention with Restless, a self-produced five-track EP that borrowed the instrumentals of pop hits including Adele's Set Fire To The Rain and Bruno Mars' Grenade. Tiff, her major label debut, is a brilliant exhibition of her sultry voice that'll leave you with goosebumps and tingles.
2. Shorty — The Anthem
Jos is Nigeria's capital of rap music, kick-starting the careers of celebrated artistes including M.I. and Ice Prince. Shorty is cut from a similar cloth as those two, but we must say that he has the potential to go farther than they have. The Anthem is all the proof you need.
3. Niniola — Ibadi
She may have finished third runner-up on Project Fame West Africa 6, but Niniola won hearts this year with her Sarz-produced debut. Ibadi is all we said it is here (and more).
4. Morell — Kai
Rappers who spit Hausa rhymes aren't exactly a dime a dozen, and the ones who do it with flair are even rarer to find, so we're grateful for Morell and this explosive trap music jam. Fun fact: Kai is Hausa for 'top'.
5. Cynthia Morgan — I'm Taken
Speaking of not blending in, dancehall singer Cynthia Morgan is a genuine one-of-a-kind artiste with an unmistakable vocal style and more fierceness in her tone than the male competition can boast of, and she knows. About I'm Taken? She was just showing off.
6. JaYa — Alabosi
"This is how an actual musician should sound. No synthesizers, no Auto-Tune, no kidding." That's us gushing about JaYa's near-perfect debut in March. We're still in awe.
7. Enigma — Just Kidding
Enigma didn't come out with a bang and that's a good thing: we won't trade this soft, brilliantly-written song for any noisy musical announcement. Just Kidding is, hands down, one of the best vocal performances by a Nigerian artiste this year.
8. Poe — Gbe Si Le

He's grossly undervalued, and that's just a shame. There are few Nigerian rappers who would go toe-to-toe with Ladipo 'Poe' Eso and come out with an unbruised ego. A testament to his ability and hunger? He reworked Gbe Si Le, a standout track on his 2012 EP, Icarus, into this heat-packing single. Because Poe isn't satisfied with 'okay', greatness (and an album) can't be a long way off.
9. Femi — B'aye Molla
Taking subtle sonic cues from highlife legends Victor Olaiya and Fatai Rolling Dollar, Femi works Yoruba and pidgin lyrics into a guitar-driven instrumental for B'aye Molla, a successful musical experiment that is at the same time retro and modern.
10. Tay — Gabriel (Feat. Sute)
"If Tay's Passport mixtape is a sunrise, then Gabriel is that surreal moment of brilliance when the yellow ball of celestial light crests the horizon." We we're that impressed by the Bantu Collective singer-songwriter/producer's unique sounds earlier this year, and we have come to regard Tay as Nigeria's biggest musical revelation this year.
11. Q-Dot — Ibadan (Feat. Olamide)
Delightfully authentic and shamelessly raw, clever fuji singer Q-Dot picked the perfect collaborator in ubiquitous rapper Olamide for this eponymously titled ode to the city of Ibadan. Not every time shoki bait, sometimes meaningful shoki bait.
12. Mojeed — Murtala Mohammed
Mojeed's Westernized West African mixtape hints of the disruption coming to the Nigerian hip hop scene soon and it affirms the Aristokrat Records artiste's place as a respectable lyricist. No track on that mixtape shows off Mojeed's rap persona, his background and influences better than the superlative Murtala Mohammed.
13. Patoranking — Bora (Feat. Olamide)
Sometime during Patoranking's remarkable year, the dancehall sensation jumped on the beat of Chris Brown's Loyal with Olamide for a song that, wonder of wonders, takes on the awful skin lightening trend sweeping across Nigeria. Bora is supposedly a freestyle but, for its brilliant spontaneity and message, it could well be the pair's finest four minutes in 2014.
14. Cobhams Asuquo — Ordinary People
Ordinary People, the first single from a yet-to-be-released album recorded in 2011, is one of several dozen reasons why Cobhams Asuquo is an acclaimed music maker. Pitch-perfect singing, great songwriting and first-rate production come together to make this the year's most inspiring song.