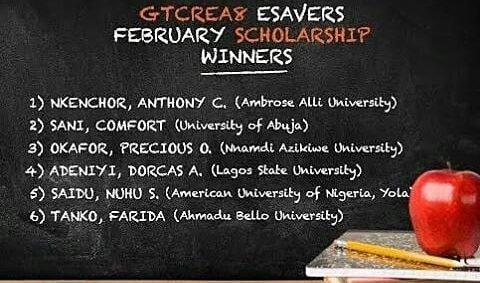 January & February Scholarship Winners
Details
We gave out information earlier in the year that we would be giving out N 150,000 to 6 GTCrea8 account holders monthly this year, we have our winners for January and February and winners for March and April would be announced as soon as they receive their scholarships.
In January we had;
Ayegbusi Omobolanle – University of Lagos
Omole Temitope – University of Abuja
Okon Udoyen – Federal Polytechnic Owerri
Ogungbayi Oluwafemi – University of Ilorin
Nabage Adam – Bayero University Kano
Ochai John – University of Jos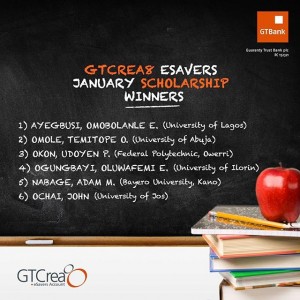 While in February we had;
Nkenchor Anthony – Ambrose Alli University
Ssani Comfort – University of Abuja
Okafor Precious – Nnamdi Azikiwe University
Adeniyi Dorcas – Lagos State University
Saidu Nuhu – American University of Nigeria, Yola
Tanko Farida – Ahmadu Bello University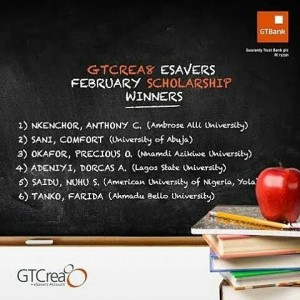 This promotion is still open so if you're currently a student of any tertiary institution in Nigeria and you run a GTCrea8 eSavers account, you could win a ₦150,000 scholarship in May. How do you win? It's pretty straightforward, just read the terms below carefully.
Terms
1. You must have a GTCrea8 eSavers account. If you don't, open one right now here.
2.Maintain an average balance of ₦5,000 in your GTCrea8 e-Savers account each month. Or download the GTBank Mobile Banking app for iOS, Android or Windows Phone. Or use Internet Banking, 737, Mobile Banking or a POS for at least three transactions every month.