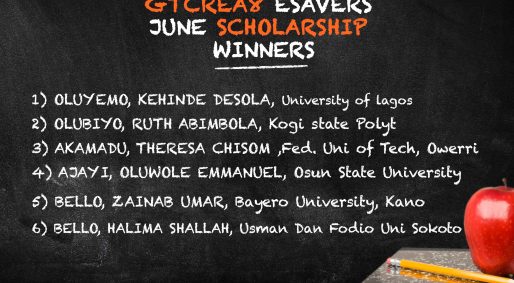 Winners for the May & June Edition of the GTCrea8 Scholarship Have Emerged
Details
GTCrea8 aims at bettering the lives of as many Nigerian students as possible, the need to do this gave rise to the awarding of scholarships.
Every month GTBank gives out 6 scholarships worth 150,000 Naira to students enrolled in tertiary institutions around Nigeria.
The recipients of the May Scholarship are:
Idowu Christiana, Adeniran Ogunsanya College of Education
Chiboka Uzodinma Promise, CruTech
Okpanachi Victor Adeojo, Landmark University
Gabriel Deborah Oyiza, Gombe State University
Ajibade Peter Oluwatobi, Ajayi Crowther University
Udochi Jemima E. , Federal University of Technology, Minna
The recipients of the June Scholarship are:
Oluyemo Kehinde Desola, University of Lagos
Olubiyo ruth Abimbola, Kogi State Polytechnic
Akamadu Theresa Chiosm, Federal University of Technology, Owerri
Ajayi Oluwole Emmanuel, Osun State University
Bello Zainab Umar Bayero Universsity, Kano
Bello Halima Shallah, Usman Danfodio University Sokoto
This promotion is open to all Nigeria students currently enrolled in tertiary institutions within the country.
For the months of January , February, March and  April , check out the winners of the scholarship here
You still stand a chance of qualifying for the June edition of the ₦150,000 scholarship.
Terms
1. You must have a GTCrea8 eSavers account. If you don't, open one right now here.
2.Maintain an average balance of ₦5,000 in your GTCrea8 e-Savers account each month. Or download the GTBank Mobile Banking app for iOS, Android or Windows Phone. Or use Internet Banking, 737, Mobile Banking or a POS for at least three transactions every month.